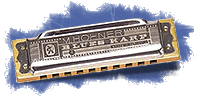 'Award winning harmonica driven, blues based, roots, rock and soul music' is what best describes the musical stylings of COLIN DUSSAULT'S BLUES PROJECT. The band was formed in Cleveland, Ohio in May of 1989 by lead singer, songwriter, harmonica player Colin Dussault. In addition to Dussault, the band's current lineup consists of guitarist Jim Feeney, bassist John Atzberger, pianist Brent Lane and drummer Steve Zavesky.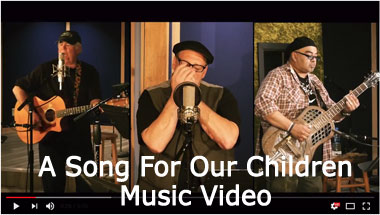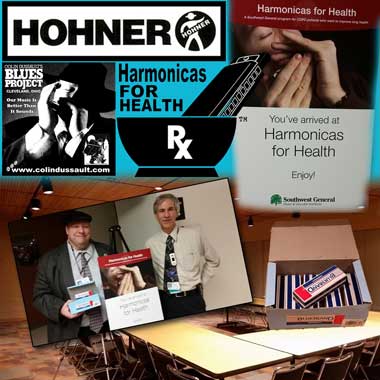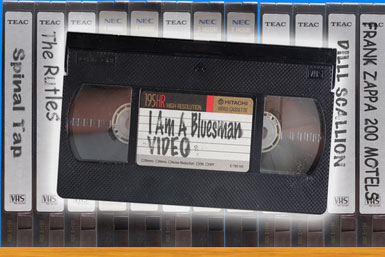 Click image to view video
If you would like to read an in depth and comprehensive biography about Colin Dussault and his band click here (pdf format 4MB).

Dussault's career in music is more or less his destiny as opposed to a vocational choice. He was born the son of a bass playing father who experienced some success in the musically fertile 1960's. Colin's father Artie played bass in several of the top groups that worked in and around Cleveland in the late 1960's & early 1970's. In addition to the Crawling Group and the Blackwelles his father worked in the United Artist Records recording group Audi-Badoo which featured members of the aforementioned bands in addition to former members of the Tree Stumps.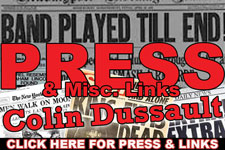 Growing up Colin spent much of his time listening to his father's vast record collection while building an impressive audio library of his own. While doing so he was exposed to and absorbed a myraid of musical styles. His musical influences range from Blind Willie McTell, Muddy Waters, and Little Walter to Country Joe and the Fish, The Youngbloods, Woody Guthrie, Doc Watson, Cream, the Beatles, Bob Dylan, the Rolling Stones, Led Zeppelin, Frank Zappa, The Left Banke, Buffalo Springfield and Lyle Lovett.

In the time since the band's inception on Colin's 19th birthday in 1989, Colin Dussault's Blues Project has played literally thousands of shows in and around Cleveland, Ohio western Pennslyvania, western New York, St. Louis, Missouri and Chicago, Illinois. This busy performance schedule has prompted more than one reviewer to call Colin "The hardest working blues man in Cleveland."

While maintaining an impressive list of local club appearances, sometimes working 4 to 6 nights per week, he and his band have also shared the stage with such luminaries as Bo Diddley, the Fabulous Thunderbirds, Buddy Guy, Junior Wells, Bad Company, Robert Lockwood Jr., Carey Bell, Brian Auger, James Cotton, Blood Sweat & Tears, Buckwheat Zydeco, Eric Burdon, Jeff Healey, Koko Taylor, and Storyville.

Dussault's tenacity and talent have secured him a secure place alongside Cleveland area musical stalwarts like Micheal Stanely, Robert Lockwood Jr., Wallace Coleman, Crazy Marvin, Mr. Stress, Travis Haddix, and Greg Bandy.

The band has released ten compact discs and one 90 minute video all on Colin's own Erica Records label.

Whether they are called upon to entertain guests at a wedding, a corner tavern, a rib burnoff, a private or corporate party, a yacht club, a backyard barbecue or a fund raiser for First Lady Hillary Rodham Clinton the band is capable of pleasing any group of people in any situation. They are able to do this by drawing from a set list consisting of original music as well as blues, rock, country, jazz, swing, folk, reggae, Motown and the occasional polka. Colin and his band boast an impressive knowledge and understanding of a plethora of music and musical styles.

If you would like to book the band for an event or club feel free to inquire as to Colin Dussault's Blues Project's availability. Keep in mind that the band schedule is booked a full 12-14 months in advance but occasionally dates open up unexpectedly. The band can also fit gigs in before or after events that are already booked provided the times and locations makes it feasible to do so.

If you would like additional information pertaining to the band check out several of the numerous letters of reference that have been written on the band's behalf.

Thank you for visiting our web site and for your continuing support!

To contact Colin or any of the band members you can email us at: colindussault@gmail.com
Colin Dussault - "KNOWN AS THE SONGBIRD OF HIS GENERATION BY THOSE WHO KNOW HIM"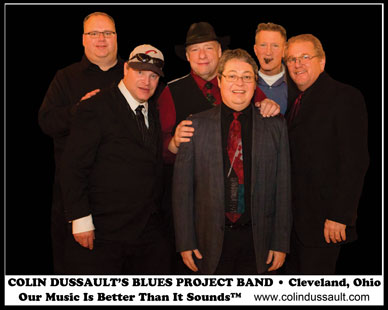 Colin, Fred, & Jimmy at Tower City Amphitheater opening for Jonny Lang. (photo by Renee Schroyer)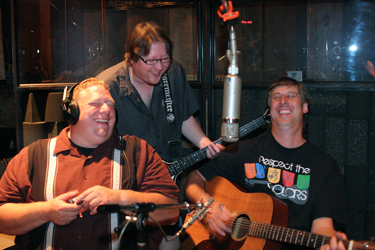 Colin, Eroc Sosinski & Jim Tigue enjoying a laugh at Suma Recording Studios
Special thanks to these media outlets for their continued support of the band!