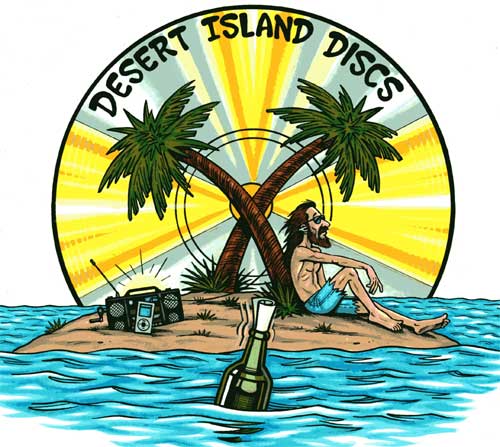 When I was younger I read a book called "Desert Island Discs". The premise of the work was that celebrities would list the 10 records or songs that they would absolutely NEED if they could choose them before being stranded on a desert island.
In the years since I read the aforementioned book the BBC has created a radio show with the same premise. I was talking to the guys in my band about this and we thought it would be interesting to list the 10 albums "that we could not live without." This, however, proved to be nearly impossible to do. So, here are our TOP 30 plus a few boxed sets. I know for me personally, the albums I have listed have profoundly impacted me as an individual and an artist. Out of 8,000 plus records and CD's that I personally own these are the ones that I always revisit when looking through my collection.

When you think about all of the different personalities that make up a band it is interesting to try and figure out where each musician is coming from. The lists that follow show just how different and in some cases similar our interests and influences are. All of these influences have converged into the unique sound that is our band.
COLIN DUSSAULT - Lead vocalist/harmonica
Richard & Linda Thompson -"I Want to See the Bright Lights Tonight"
King Curtis -"Live at the Fillmore"
Johnny Cash -"American Recordings"
Toots & the Maytals -"Funky Kingston"
Jesse Colin Young -"Soul of a City Boy"
Josh Roush -"Nashville"
David Johansen -"The New Harry Smiths"
Blind Willie McTell "Pig 'n Whistle Red" (Historic 1950 Regal Sessions..."
Keb 'Mo -"Keb 'Mo"
Left Banke -"Walk Away Renee"
Country Joe & the Fish -"Electric Music for the Mind & Body"
The Animals -"Best of the Animals"
Otis Rush -"Right Place Wrong Time"
Buddy Guy & Junior Wells -"Play the Blues"
John Mayall's Blues Breakers -"With Eric Clapton"
Jesse Colin Young -"Songbird"
Junior Wells, Billy Branch, James Cotton, Carey Bell -"Harp Attack"
Robert Cray, Albert Collins, Johnny Copeland -"Showdown"
Gary Primich -"Mr Freeze"
The Tiffany Shade -"The Tiffany Shade"
Robert Cray -"Strong Persuader"
Willie Dixon -"The Big Three Trio"
Nuggets -"Volume One"
Eric Burden & the Animals -"Before We Were So Rudely Interupted"
Frank Zappa & the Mothers Of Invention -"We're Only in it for the Money"
Mark O'Connor -"New Nashville Cats"
Moby Grape -"Omaha"
Arthur Alexander -"Greatest Hits"
Willie Nelson -"Spirit"
Lyle Lovett -"Joshua Judges Ruth"
Chuck Berry Box Set
Muddy Waters Box Set
Willie Dixon Box Set
Howlin' Wolf Box Set
Hank Williams Box Set
GREG HURD - Keyboards/Vocals
The Beach Boys -"Pet Sounds"
The Zombies -"Oddysey & Oracle"
The Beatles -"The White Album"
The Rolling Stones -"Sticky Fingers"
Chick Corea -"Now he Sings, Now he Sobs"
Todd Rundgren - "A Wizard, A true Star"
Traffic -"John Barleycorn Must Die"
Radiohead -"The Bends"
Lambchop -"How I Quit Smoking"
Astor Piazolla -"Tango: Zero Hour"
Jimi Hendrix -"Axis: Bold as Love"
The Beatles -"Beatles For Sale"
Neil Young -"Decade"
Gustav Mahler - "Symphony No. 2" (Bernstein)
Charles Ives -"Symphony No. 3" (Bernstein)
Samuel Barber -"Adagio for Strings" (Bernstein)
John Lennon -"Plastic Ono Band"
Yes -"Close to the Edge"
Porcupine Tree -"In Absentia"
Joni Mitchell -"Clouds"
Merle Haggard -"Chill Factor"
James Brown -"In the Jungle Groove"
Buddy Holly -"The Complete Buddy Holly"
Cream -"Wheels of Fire"
Jeff Beck "Beck-Ola"
Donvan -"Barabajagal"
Mahavishnu Orchestra -"The Inner Mounting Flame"
Shawn Phillips -"Collaboration"
John Coltrane -"impressions"
Bill Evans -"The Village Vanguard Sessions" (w/Scott Lafaro)
Bob Dylan -"Biograph"
Miles Davis - "The Cellar Door Sessions"
Nuggets "1965-1968" Rhino
Loud Fast & Out of Control -The Wildest Sound of '50's Rock
Anthology of American Folk Music (Edited by Harry Smith)
FRADIO - Drummer
(In Alphabetical Order)
The Allman Brothers' Band - The Fillmore Concerts
The Beach Boys - Pet Sounds
The Beatles - Revolver
James Brown - Live a the Apollo '67
The Buena Visa Social Club
Ray Charles - Birth of Soul: The Complete Atlantic Recordings
Hariprasad Chaurasia & Shivkumar Sharma - The Call of the Valley
Jimmy Cliff (et al) - The Harder They Come
John Coletrane - A Love Supreme
Elvis Costello & the Attractions - Get Happy
Miles Davis - Kind of Blue
Deep Purple - Machine Head
Bob Dylan & the Band - The Basement Tapes
Duke Ellington & Orchestra - The Great Paris Concert '63
The Flying Burrito Brothers - The Gilded Palace of Sin
Aretha Franklin - Live at Fillmore West
The Jimi Hendrix Experience - Axis Bold as Love
Little Feat - Waiting for Columbus
Curtis Mayfield & the Impressions - Anthology
Joni Mitchell - Blue
Van Morrison - A Night in San Francisco
Poco - Delverin'
The Police - Regatta De Blanc
Otis Redding - Live in Europe
The Refreshments - Wheelie
Rockpile - Seconds of Pleasure
Get Your Ya-Ya's Out: The Rolling Stones in Concert
Never Mind the Bollocks, Here's the Sex Pistols
Simon & Garfunkel - Greatest Hits
Sly & the Family Stone - Anthology
The Velvet Underground & Nico
Tom Waits - The Heart of Saturday Night
Wilco - Being There
Big Joe Williams - Nothin' But the Blues
Neil Young - After the Gold Rush